More Info
Alcatel U3 3G (4GB Rose Gold)
Alcatel U3 3G (4GB Rose Gold) on Pay Monthly (24 Month(s) contract) with 250 mins; 5000 texts; 500MB of 4G data. £7.50 a month.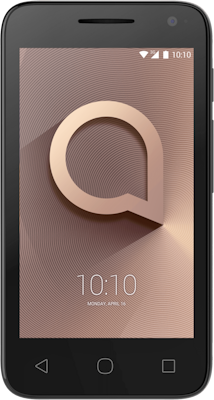 Alcatel U3 3G provides a first rate smartphone experience at an unbeatable price tag along with front and rear flash for perfect pictures at any light. The compact 4'''' display combined with the outstanding textures design ensures an easy grip and a comfortable feel. What''s more, phone guard helps to save valuable battery, boost performance and protect your phone from viruses. Alcatel U3 3G provides the fantastic value for first-time smartphone buyers.
Key Features
Internal Memory: 4GB
Mega Pixels: 3
OS: Android
Data Standard: 3G
Talk Time: Up to 12 hours
Colour: Rose Gold
Sim Type: Micro SIM

Pay Monthly
£0
.00
Upfront

250

mins

5000

texts

0.5 GB

data

£7

.50
per month

You'll pay a total of

£180
(£0.00 Upfront + £7.50 x 24 payments)

This is over the period of your

24 Month(s)
contract
No mid-contract price increases
You won't see any irritating price hikes during your contract because your price is fixed, so what you pay at the start of your contract is what you'll be paying at the end.
Capped Contracts
Cap your bill for complete peace of mind and never experience bill shock again.
Tesco Mobile: Perks
Free Perks are extra minutes or data for you and every other contract on your pay monthly account. Each of you can choose your own free Perk. It's yours, for free, every month. You can change your Perk each month if you like. Terms and Conditions apply. Check website for details.
4G
Enjoy super-fast 4G at no extra cost to you.
Xtras: Save an extra £3 on your monthly bill (See Ts&Cs)
Xtras is the smart way to get £3 off your pay monthly and SIM only bills. Sign up to Tesco Mobile Xtras and we'll knock £3 off your monthly bill when you view ads, offers and content when you unlock your Android phone. Terms and conditions apply. Check website for details.
Tesco Mobile: Clubcard Points
With Tesco Mobile, you collect Clubcard points for every £1 you spend on top-up or your Pay monthly bill. You can spend your points on a variety of rewards such as holidays, days out, restaurants and much more.
Why Choose Tesco Mobile?
Tesco Mobile is the UK''s largest mobile virtual network operator with plenty of awards for its great value deals and UK based customer care team. Operating on O2''s network, Tesco Mobile covers 99% of the UK population and offers 4G at no extra charge, with a wide selection of Pay Monthly and Pay-As-You-Go deals that let you cap your bills for peace of mind.
Includes 4G at no extra cost, clubcard points for every pound you spend and contract capping. You can also choose from Anytime Upgrade and Anytime Upgrade Flex deals on selected devices.